Industry-leading energy efficient power solutions
With its wide range of Uninterruptible Power Supplies (UPS), Delta offers a competitive edge to businesses in need of first-rate power solutions. Delta UPSs are designed to ensure that companies can protect their mission critical applications by maintaining a steady flow of energy under adverse circumstances. An uninterruptible power supply is an electrical apparatus designed to furnish emergency power even when other sources of input power fail, and they are indispensable tools within a huge number of unrelated industries. These devices differ from a standby generator or an auxiliary or emergency power system in that in the event of a disruption to input power, a UPS will provide near-instantaneous protection for mission critical applications in the form of energy stored in batteries.
The high cost of electricity is not a factor that businesses can afford to ignore when considering their overhead. Every company, no matter how large or how small, must monitor its power use in order to avoid consuming too much. Delta UPSs are known for efficiency and for saving not just energy, but money that would be wasted by less advanced devices that require too much power.
The growth of a business should never be at risk of limitation or delay due to avoidable technical restrictions of existing power hardware. To help companies prepare for increasing success, Delta engineers flexible, scalable systems that are built to be easy to expand as needed, to accommodate greater demands for power protection.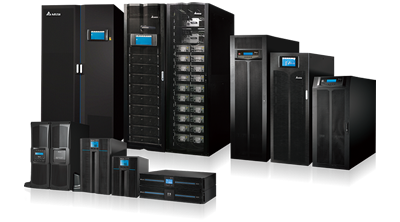 The award-winning UPSs designed by Delta act as advanced power managers, ensuring the availability of an uninterrupted power supply to protect hardware and mission critical applications. High-quality UPSs function as an essential safeguard against many potential energy issues, including voltage surges and spikes, voltage sags, total power failure, and frequency differences. By making sure that their systems are set up to retain access to a stable power supply, even during failure events, companies can greatly reduce their costs while continuing to keep operations running smoothly.
The Delta line of uninterruptible power supply units includes superb options trusted by leading organizations across a wide array of industries, from financial institutions to medical centers. Small business owners also look to Delta for power solutions that keep their vital equipment running no matter what happens. In the Ultron UPS family, three-phase online UPSs have power ratings of up to 5500 kVA, perfect for data centers, industrial facilities, and more. Three-Phase online modular uninterruptible power supply systems from the Modulon UPS family offer scalability and redundancy in a single frame, with up to 480 kVA. Delta's UPSs are some of the most advanced in the industry, renowned for their innovation, reliability, and efficiency.
Delta also offers a large selection of accessories and monitoring software to complete and complement its UPS power solutions, ensuring compatibility among various components in an installation.
Delta 1-3Kva RT series UPS systems 1/1
Reliable power with greater energy-saving features
The Amplon RT 1-3kVA series is an online double-conversion UPS providing consistent sine-wave power to your critical equipment. It supports personal computers, networks, servers, VoIP and telecommunications.
The Amplon RT 1-3kVA series features an output power factor of 0.9 and best-in-class AC-AC efficiency up to 94% resulting in greater energy savings. Optional external battery pack can be connected for longer backup time to keep your applications safe and running smoothly at all times.
Delta 5-10Kva RT series UPS systems 1/1
Reliable power with intelligent energy-saving features
As part of Delta's highly regarded Amplon line, the Amplon RT series is an up-to-10kVA rackmount UPS with double conversion on-line technology. Offering advanced performance for servers, data centers, networking, VoIP and telecommunications, the Amplon RT series of UPSs (uninterruptible power supplies) makes an excellent choice for servers with high power density and input power factor. Its advanced architecture provides low current harmonics. UPS units in the series can keep power flowing under adverse circumstances, offering full-time rackmount solutions and protection for 24 hours a day, seven days a week, with true online double-conversion topology.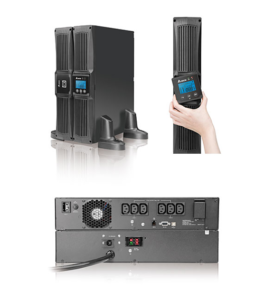 With a 1+1 parallel redundancy function, the Amplon RT series provide higher reliability for rackmount solutions. In engineering, redundancy is the duplication of critical components or functions to increase systems reliability. By incorporating multiple copies of a system's most critical components into the overall design, the system is prepared to continue to operate in the event of a power event, or of a failure by one of those components. In the case of an uninterruptible power supply, redundancy is the extra power it can offer as a stand-by during a power outage, until either the main power supply returns, or a generator begins to offer another source of power. UPS power can also keep a system running temporarily so that it can be powered down in an optimal way, which is the safest course of action to protect the hardware and the data. Designed in a rack or tower configuration with an LCD display, the Amplon RT series can include an optional external battery pack to extend power for an even longer period of time, for optimized protection of protect critical applications.
Processors and memory use more power than any other components within a server, and their demands for energy can significantly increase a company's operational expenses. As server technology has developed and become more sophisticated over time, the amount of power that servers need to function has increased more and more. After processors and memory, the third largest drain on server power is efficiency loss from the power supply. The efficiency of a power supply is dependent upon its load, and loads with power utilization rates between 50 and 70 percent are considered most efficient. Power consumption, and therefore overhead, can be greatly reduced by a highly efficient power supply. The Amplon RT is one of the most efficient rackmount UPS units, and its TCO, or total cost of ownership, reflects that. The Amplon RT series outstrips rackmount solutions offered by competitors by offering reliability and secure protection without demanding vast quantities of expensive energy in return.
Delta EH ULTRON series 10-20Kva UPS systems 3/1
Power Reliability with the Best Total Cost of Ownership
The Delta Ultron EH series is a true online, double-conversion UPS. It is a proven power solution for IT rooms, telecommunications, banking, medical facilities, laboratories, and other settings in which mission critical applications cannot be disrupted.
True online double-conversion UPS technology isolates the output power and protects it from input anomalies. The dual input design of the Ultron EH series provides enhanced availability by accommodating different power supply sources. By accepting a wide input voltage range, EH series UPS units reduce probability of battery discharge to prolong battery life. Even if the UPS is under maintenance, a continuous supply of power to the load can be maintained by the use of the built-in manual bypass.
When paired with the EH series' multi-connectivity interface, Delta's advanced management software supports analysis, remote UPS management and monitoring, remote shutdown event log tracking, and event alert management. System stability is further enhanced by the unit's simplified control circuit, and rapid computational capability is facilitated by the use of DPS-based technology.
For a modest initial investment, the double-conversion UPS series – EH provides both outstanding quality and one of the lowest costs of ownership for UPS systems within the 10-20 kVA range. To shrink the cost of operation even more, the units can be run in ECO mode for efficiency of up to 96%.
The Delta Ultron EH Series was honored by India's NCN magazine in May 2014 with an award for innovation and energy efficiency. Matching reliability and ease of use with cutting-edge technology, the EH Series has earned its reputation as a top performer in the protection of mission critical applications.
Delta HPH series 20-120Kw UPS systems
Best-in-class power protection with maximum power and cost efficiency
Behind every great design there is an answer. Delta's true online double-conversion Ultron HPH Series is the solution for small and medium data centers and mission critical applications requiring highly reliable power protection and unbeatable energy efficiency.
The innovation behind the Ultron HPH Series UPS design incorporates low iTHD (<3%), 96% AC-AC and 99% ECO mode energy efficiency for increased Total Cost of Ownership (TCO) savings. Fully rated power (kVa=kW) without de-rating, the Ultron UPS offers leading AC-AC efficiency without sacrificing any available power requirements. Increased availability is further augmented through Ultron HPH watch-dog design.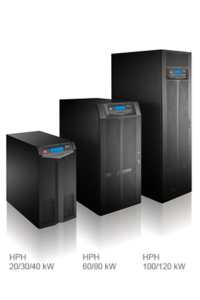 Quite simply, the HPH Series UPS from Delta is a best-in-class (three phase 20/30/40/60/80/100/120 kVA UPS) power protection system that combines maximum available power, unsurpassed energy efficiency, and superior power performance with a significant advantage: TCO savings. HPH is an ideal choice for datacenters as well as for industries involved in factory equipment, communication systems, computer network systems, medical systems, monitoring systems and more. Since the Ultron HPH series UPS was launched in 2013, it has obtained wide adoption by customers and professional organizations worldwide, such as HPH 20kVA and 30kVA UPS for the luxury car manufacturers in Germany, key telecommunication operators in Asia, and international medical equipment providers in India, to name a few.
NEW Delta HPH 160 and 200Kw UPS systems
Highly reliable and efficient backup power for medium enterprise operations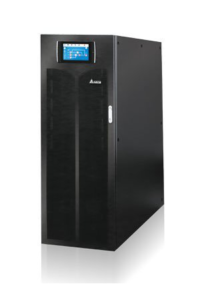 The brand-new Ultron HPH series 160-200kVA is a true online double-conversion UPS offering the best-in-class combination of power performance and efficiency for medium data centers, pan-IT, and other mission critical applications. Thanks to Delta's R&D expertise and excellent engineering capabilities, the Ultron HPH features up to 96.5% AC-AC efficiency, low iTHD < 3%, and high input power factor > 0.99 resulting in significant total cost of ownership (TCO) savings. Highlights of the highly reliable Ultron HPH series UPS design include key component redundancy and proactive battery health detection. With its combination of superior availability and power performance, the Ultron HPH 160-200kVA is the top choice for power protection of sustainable medium business operations.
Delta DPH Power Module UPS systems 75kw, 150kw and 200Kw
The modular UPS ideal for medium-sized datacenters.
Introducing the next generation of modular uninterruptible power supply (UPS) systems designed for ultimate availability, excellent performance, high efficiency, and ideally suited for medium-sized datacenters.
The Modulon DPH Series UPS is a modular UPS used extensively for critical operations, since it provides 25% more power output compared to power factor 0.8 UPS systems. Designed for the most stringent datacenter requirements, the Modulon DPH Series offers the highest possible availability. With its modular structure, the true on-line, double conversion, three-phase Modulon DPH Series UPS system offers a scalable architecture for optimal power designs. It provides 25kW to 200kW of uninterruptible power with additional 800kW capacity in parallel.
The Modulon DPH Series' scalable architecture is available in a 19″ enclosure, and supports vertical and horizontal expansion for versatile installation arrangements. Integration of your power distribution can take shape within the same rack or in parallel rack enclosures. Optimal placement is ultimately decided by the needs of the datacenter, not the limitations of the UPS system.
Built-in redundancy guarantees a continued power supply for mission critical applications, and the fully fault-tolerant design of the Modulon DPH Series offers self-redundancy for the control mechanism, cooling and power modules. Mean time to repair (MTTR) is close to zero, due to hot-swappable functionality for all critical components. In the event of failure by the main module, full control logic enables the system to self-synchronize and switch to the backup, for a seamless transition with no disruption to operations.
Delta's Modulon DPH Series UPS provides one of the highest efficiency ratings in its class. With fully rated power, this modular 3 phase UPS delivers maximum power capacity, better power protection and quality to the load. Scalability, availability, and efficiency distinguish the Modulon DPH Series UPS as the best solution for power protection and distribution in your datacenters.
Delta 50-600Kva Modular UPS system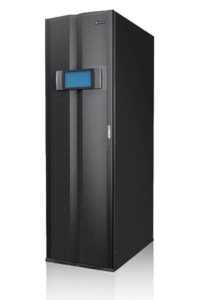 The world's highest power density providing ultimate MW power protection with leading power performance and superior reliability
In this IT intensive world with heavy data traffic driven by cloud, 4G/5G and media streaming applications, IT managers are facing the challenges of increasing rack power density and limited data center space. Delta's innovative modular UPS technologies provide the answer to customers' demand for high power density, high power performance, and ultimate availability.
The brand-new Delta Modulon DPH series UPS 50-300/500/600kVA achieves the industry's leading power density of 50kW per module, offering the smallest footprint and best space utilization. The Modulon DPH Series UPS is the ideal modular power protection for MW data centers to achieve total cost of ownership (TCO) optimization.
Delta DPS Series UPS systems 160Kva to 500Kva
Leading in power performance and efficiency
In a highly competitive market where UPS performance and reliability are required, keeping pace is simply not enough. To fulfill your current and future needs, choosing Delta's Ultron DPS series is a solution worth considering. It is best suited for applications requiring power ratings of 160kVA to 500kVA.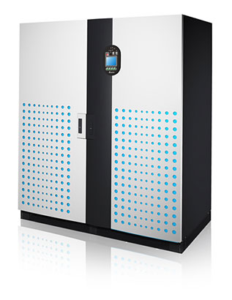 Delta's Ultron DPS is a double-conversion and IGBT-rectifier three phase UPS. With the three level IGBT topology for both PFC (power factor correction) and inverter, the Ultron DPS features industry leading performance of up to 96% AC-AC efficiency. Thanks to Delta's advanced digital PFC control, it also has low iTHD < 3% and high input power factor > 0.99 resulting in significant total cost of ownership (TCO) savings. Aiming to achieve the highest availability possible, Delta has enhanced special designs for battery management, swappable fans and ease of maintenance.To empower customers to make the optimal choice for their unique energy needs, the Ultron DPS series includes three different cabinet sizes: 160 kVA UPS~200 kVA UPS ; 300 kVA UPS~500 kVA UPS.
Excellent power performance and high system availability of the Ultron DPS provide customers with the benefits of a stable power supply, high power efficiency, low capital investment and low overall operation cost. To increase system reliability in the challenging electrical environments common for today's businesses, Delta has designed the Ultron DPS with an input voltage range -40% ~ +20%, for clients looking to build a foundation on a N+X redundancy / hot-standby configuration. Intelligent fan speed control and redundant fan design that prevents overheating is also featured in the Ultron DPS.
With its state-of-art design, intelligent fan speed control and redundant fan design, Delta's Ultron DPS UPS series provides a cornerstone for power performance and efficiency.
Delta Date Centre solutions
Delta InfraSuite Datacenter Infrastructure Solutions with its integrated design and scalable system architecture supports customers in building an optimal datacenter with fully-integrated infrastructure solutions. We offer the following solutions.